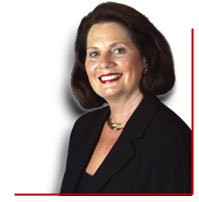 Marcie Roggow
ABR/M, CCIM, CRB, CRS, DREI, GRI, SRES

Licensed since l972, Marcie has worked in all facets of the real estate profession: broker-owner, developer, and educator.

An active member of the REALTOR family, Marcie believes in giving back to the industry that gave her so much. Through NAR her concentration has been in the political affairs, license law, and risk management committees. Today her training efforts concentrate on the same topics. Her ability to understand and articulate agency and license laws is an asset to her audiences. Marcie has worked closely with REALTOR organizations and Real Estate Commissions alike to draft legislation that can be understood not only by the consumer, but also by the licensee. Marcie's commitment to real estate education is evidenced by her own designations.

Marcie's quick wit and ability to convey difficult material in an understandable fashion make her a popular presenter for state and local boards of REALTORS as well as private and franchise companies.

REALTOR Organization Background
1985 Iowa City Board of REALTORS President
1991 Chairman Iowa State Political Affairs Committee
(2 year term)
1992 Associate Vice President Iowa Assoc. of REALTORS
(3 year term)
1993 Vice President, Iowa Association of REALTORS
1999 Omega Tau Rho

Served on the following NAR Committees: License Law, Education, Political Affairs, Marketing and Economic Research, Commercial Finance, Education Forum, Risk Management Forum, Risk Management, Agency sub committee of the Risk Management, and License Law Committees
Association of REALTORS

Served on virtually every committee. A member of the legislative committee since 1984 and acted as a liaison for the license law, agency, and disclosure legislation. Attended the real estate commission meetings to monitor legislation. Coordinated legislative Hill Visits for the Iowa Association of REALTORS Planning legislative receptions and briefing sessions.


South Dakota Association of REALTORS

Sioux Falls Professional Standards Committee
Chairman for Education SD/ND Convention
Served on Administration Committee, Membership Committee
Conducted the SD State Strategic Planning Retreat to Develop Policies

Caravan instructor for SD Real Estate Commission
SD Association of REALTORS
Cerified Residential Specialist CRS
Served on the National CRS Budget, Executive, Chapter Activities, Membership, Designation, Designation Promotion, Course Promotion, Steering, ERC/Franchise marketing Task Force, and 3 terms on the Board of Governors.

1985 CRS of the Year, Iowa Chapter
1986 CRS Iowa Chapter President
1989 CRS Regional Vice President for the RS Council (6 year term)
1990 Chairman Regional Vice President Committee
2006 South Dakota CRS Chapter President

Represents the RS Council at major franchise conventions-promoting the designation, working the booth and attending function as an RS Representative

Served on RS promotional video task force to develop script and produce 15 minute video to promote designations

CRB
CRB Board of Directors 2004-2006
Served on Product, Publications Advisory, Professional Development, and Finance Committees
Author of many of the CRB Best Selling Products

CIREI
1997-1998 CCIM/CI 401 Workshop Leader
Designated in 1995

REBAC
Senior ABR/M Instructor, Train the Trainer
l996-2004 for all National Meetings ABR convention speaker l996-2004
Inducted into REBAC Hall of Fame
Co-author of ABR, ABRM and RLI 101 course

Real Estate Education Experience
GRI Instructor
Colorado, Iowa, South Dakota, Wisconsin, Indiana
Caravan Instructor
South Dakota, North Dakota, Nebraska and Kansas Association of REALTORS
Presenter at NAR Convention/Midyear Meetings
Course Coordinator
for all CRS, CRB courses in Iowa 1984-1992
Have attended an IDW every year since 1992
Convention Speaker
for: Century 21 and GMAC Real Estate Services, ERA, Re/Max
RE/MAX RSN TV: ABR, Case of Missing Disclosure, NAR Ethics
Train the Trainer
NAR Risk Management Committee 1995/1996 (Agency)
REBAC/ABR 1996-2004
NAR Risk Management Forum
Convention Speaker
Nebraska, Kansas, Tennessee, North/South Carolina Association of REALTORS, Tri-State New York, Pennsylvania, New Jersey, Texas, Virginia, Montana, Idaho, Missouri 15 different courses approved through various real estate commissions all concerning legal issues of the real estate practitioner.
Approved instructor in Iowa, Minnesota, North/South Dakota, Wyoming, Nebraska, Indiana, North Carolina, Tennessee, Pennsylvania,
Massachusetts, Maine, Delaware, Georgia, Oklahoma, Montana, South  Carolina, Rhode Island, Texas, Oregon, Kansas, Mississippi, Missouri,
Virginia, West Virginia, Idaho, Wisconsin, Michigan, Ohio, Illinois,   Colorado, Montana and New York.



Customized

T

raining

P

rograms

for independent companies, state associations, local boards, real estate commissions, and franchise companies.

ARELLO Spring Meetings, 2006 Jacksonville "Are We Teaching the Right Stuff?"






Member since 1991


Chairman of the Awards and Industry Relations
Served on DREI video review committee
Served on REEA Board of Directors 2004
Served as National REEA Treasurer 2005
Conference Chair 2003 Philadelphia
Conference Vice Chair 2006 Las Vegas
Iowa REEA President 1990-91
Co

urse Development Workshop Leader






National Speakers Association (NSA) Member since 2003
Attended National Conventions and Winter Labs
Member of the Minnesota NSA Chapter
Products
"Agency Relationships in Buying or Selling a Home"
video /English and Spanish

Risk Management Forms

Policy and Procedures Manual

Buyer Representatives for the Real Estate Professional
A book that has been used as a guide for an individual agent or can be purchased in bulk for use in the classroom.
Published by Thompson Learning.

Unlocking the Mystery of Homebuying: A Power Point Presentation for a complete buyer counseling session in both English and Spanish (Coming Soon)

Insights:
Working With Hispanic / Latino Clients

Published Works
REBAC's Buyer Rep Newsletter monthly column "Case of Missing Disclosure"

CRB/RS COUNCIL's REB magazine,

Book "Buyer Representation for the Real Estate Professional" is published by Thompson Learning.

REALTOR Magazine, and CRS Residential Specialist Magazine

BOOK: Buyer Representation for the Real Estate Professional

Personal
Mother of Tricia, FBI and Troy, Edward Jones Broker in Decorah, Iowa. Grammy to twins Kinsey and Katie, daughters of son Troy and wife Michelle Whitehill. Father, Len Eichhorn, was a real estate broker in Lincoln, Nebraska, formally a Dale Carnegie instructor for the Midwest region and Lincoln's REALTOR of the YEAR for 1997.